If you are a homeowner and live in a sunny area, you might have gotten a business card from some solar company offering to put their solar panels on your roof. As solar panels continue to become more and more common across the United States, you might be wondering what all the fuss is about. If you want to learn more about solar energy, check out this comprehensive beginner's guide on solar energy.
SunPower is a solar panel company that claims to be an industry leader. Basically, this means that SunPower's solar panels are claimed to be some of the best on the market in terms of performance. In order to find out why, or if this claim is even true, we conducted research and dug up as much information as we could regarding the SunPower company and its solar products.
We'll be going over:
The basics of how SunPower works
Whether or not it is eco-friendly
The pros
The cons
How it compares to its competition
This way, you'll be adequately informed when deciding whether or not you want to use SunPower solar panels for your home.
Alright, let's jump right into this review!
And for those of you who just want to want to look at the final scores of how SunPower compares to its competitors, click this link here.
Note: We are committed to extensively researching and recommending the best products on the market. We may use affiliate links within our content, which come at no extra cost to you.
SunPower Solar Panels – A Comprehensive Review
SunPower Solar Panels- The Basics
First, we need to talk a bit about the company itself and how it conducts its business.
SunPower is an American company founded in 1985. It specializes in solar power generation and energy storage. More specifically, they sell complete solar packages to homeowners – this is called the SunPower Equinox system.
This entire system includes:
Solar panels made from high-quality solar cells.
A minimalist-design mount for the panels.
Built-in microinverters hidden behind each panel.
The SunVault Storage system.
The mySunPower app for easy operation and maintenance.
A 25-year warranty (with a 10-year warranty for monitoring technology).
As of now, the company operates in all 50 states across the United States.
Notice how we said "solar packages". SunPower no longer sells solar panels as a separate product but rather offers a comprehensive solar installation experience.
Essentially, going through SunPower for your solar installation needs means that you won't be responsible for any of the setup – they do all of it for you. This has its own pros and cons, which will be explored later in this review.
Speaking of panels, SunPower now uses Maxeon solar panels from Maxeon Solar Technologies, a company that is headquartered in Singapore. Singapore is a nation focused on renewable energy and has put great efforts into solar energy generation, such as developing floating solar panel farms.
SunPower partnered with Maxeon Solar Technologies for a reason – to develop and provide the highest quality solar panels. Again, we'll talk more about that later.
Now, let's talk about the benefits of solar energy as an eco-friendly alternative to traditional energy generation (we are an eco-focused blog, after all).
SunPower's Eco-Friendly Impact
You probably already know that solar energy is critical for eco-friendly energy generation.
These sun-loving panels:
Reduce the need for coal and oil energy plants, both of which produce hazardous waste.
Reduce air pollution and do not emit greenhouse gases.
Provides much-needed energy to households everywhere at a lower cost.
We cover these points and more in an article all about solar energy. But the main thing you need to know is that the more solar panels we use, the less we'll need to rely on traditional, expensive, and harmful forms of energy generation – all the better for the planet that we live on. It's up to all of us to take care of it, including companies and corporations.
So with that said, we looked at whether or not SunPower's solar panels are contributing in any meaningful sense. We are interested in hard numbers, not platitudes or slick greenwashed marketing.
What we have found has been surprisingly impressive. The company has a yearly report called the SunPower Environmental, Social, and Governance Report (link provided so that you can check it out for yourself). This report dictates what the company has been up to in terms of:
Social responses and events – COVID, diversity and inclusion, community engagement, etc.
Environmental impact – Waste reduction, recycling, emissions, sustainability leadership, etc.
Governance – Code of ethics, data security and privacy, board of directors, etc.
Innovation – New policies, procedures, and products that improve solar energy production and storage.
Focusing just on the environmental impact part of the report, we can find some promising numbers. In 2020 alone, SunPower products managed to offset 15 million tons of CO2. And since 2005, this number jumps to 80 million tons of CO2. This is a substantial amount of carbon dioxide that otherwise would've continued to pollute the air.
To give you an idea of how much this is, the CO2 offset is equivalent to:
18 million cars driven for 1 year.
15 million homes' electricity use for 1 year.
9 billion gallons of gas consumed.
In terms of equivalence to trees, the CO2 offset is comparable to:
99 million acres of trees in 1 year.
1 billion tree seedlings grown for 10 years.
And by continuously refining their policies, improving their manufacturing sites, and tracking their shipping footprints, they are able to greatly minimize their own emissions year over year.
In 2019, SunPower produced about 29.33 metric tons of CO2. Just a year later, the same company managed to cut it down to 21.94 metric tons of CO2. That's a difference of over 7 metric tons of CO2.
SunPower also commits to a variety of other eco-friendly practices, such as:
Procuring solar panels only from manufacturers who commit to using water responsibly.
Maintaining a national network of innovative, approved recyclers for its electrical, mechanical, and solar panel waste streams.
Introducing green fleet technologies and EPA (Environmental Protection Agency) SmartWay carriers to further reduce emission pollution.
Finally, the solar panels themselves earn high ratings from eco-focused organizations, such as the Silicon Valley Toxics Coalition (founded in 1982).
This organization aims to ensure that the solar PC industry is safe for the environment, workers, and communities. They ranked SunPower Maxeon-based solar panels at 94/100 overall and a 10/10 for recycled content, of which these scores command some of the highest scores in the industry.
It's clear that SunPower places a huge emphasis on eco-friendly products and practices, which we absolutely love to see. But now it's time to take a look at these solar panels from a consumer's perspective and see if SunPower is really as amazing as it claims to be.
Pros
First, let's talk about what makes SunPower an appealing choice for many homeowners.
PROS
1. SunPower's solar panels are highly efficient and incredibly durable
2. Uses an all-in-one, comprehensive installation system
3. Comes with an unmatched 25-year warranty (10 years for hardware monitoring)
4. Comes with a robust energy storage system for additional energy needs
5. Offers multiple payment options, including $0 down financing
6. The products are designed with eco-friendliness in mind
7. They offer a free consultation and a free quote
1. SunPower's Solar Panels Are Some Of The Best In The Industry – Efficient And Durable
As we mentioned earlier, SunPower partnered with a company named Maxeon to manufacture and produce its solar panels. These are henceforth dubbed "SunPower Maxeon solar panels".
So why is partnership important? SunPower recognized the value in switching to Maxeon solar panels instead of producing their own, which already speaks volumes of the company's confidence in this decision. Because these solar panels are some of the best in the entire solar industry. In terms of performance and efficiency, these panels stand at the top.
Let's translate this bold claim into simple numbers so that you get a good idea of why this high performance is so valuable.
Note: The following calculations compare SunPower Maxeon solar panels to conventional solar panels, which have been modeled by a proprietary simulation tool called PVSim. If you are a solar geek, you can check out their validation process here.
Conventional Solar Panels = 192 watts per meter squared (roughly 21 solar panels)
SunPower Maxeon Solar Panels = 224 watts per meter squared (roughly 21 solar panels)
(224 watts per meter squared – 192 watts per meter squared) x 100% = 16.6% increase in terms of efficiency
This means that SunPower Maxeon solar panels will generate roughly 17% more energy than conventional solar panels in the exact same environmental conditions. And this increase is on the low end – the research data claims that this value goes all the way up 25% in the first year alone.
When you look at these numbers and compare them to conventional solar panels, SunPower Maxeon solar panels will result in:
A lower electricity bill (saving hundreds of dollars over time).
A bigger credit from your local energy provider (even more savings).
A faster recoup on the cost of the panels (shaving years off your recoup date).
Less reliance on local energy providers in general (you won't be stuck when the power goes out).
When we pulled the 25% increased efficiency value, notice how we said: "in the first year alone". That's because there is a second part to this efficiency equation – durability.
If you didn't already know, all solar panels lose efficiency over time. This is a natural consequence of technology in general, and solar panels are no exception to the rule. This is called the degradation rate, which is caused by adverse weather conditions and general wear-n-tear over time.
This loss is observed at a rate of 0.75% per year in conventional solar panels.
This means that after 25 years, conventional solar panels will generate 18.75% less energy compared to their initial installation.
0.75% loss per year x 25 years = 18.75% reduction in efficiency for conventional solar panels after 25 years
As for SunPower Maxeon solar panels, this efficiency loss is much lower – it's only 0.25% per year, a third of what conventional solar panels lose.
0.25% loss per year x 25 years = 6.25% reduction in efficiency for SunPower Maxeon solar panels after 25 years
The numbers show that SunPower Maxeon solar panels will retain an efficiency rate of around 93% even after 25 years, while conventional solar panels will retain an efficiency rate of around 81%.
If you compare the efficiency rates and durability of SunPower Maxeon solar panels and conventional solar panels, you'll find that SunPower will provide about 30% more energy in total over the course of 25 years.
That is a substantial increase!
You can go directly to the SunPower website to learn more if you are interested. Keep in mind that our calculations don't include the 2% yearly increase in electricity costs, which solar panels save for you as long as they are in use.
So why are these solar panels so efficient and durable? It's because of how they are designed and what they are made from.
First, each panel uses a solid copper foundation for its base, which provides great strength in attaching the panel to the roof. No matter the environmental conditions, you can be sure that your panels won't drop off your roof.
Second, the midsection of each panel is made with ultra-pure silicon for optimal solar energy conversion. Basically, the purer the silicon, the better the panels are able to convert light into usable energy.
Finally, the unique composition of the panel's surface boosts its light-trapping power, allowing each panel to absorb as much light as possible. This is the driving force behind the efficiency of the panel – since more light is being absorbed by each panel, you can achieve a higher output of energy.
But these panels don't just stop there.
The surface of each panel is layered with an anti-reflective coating, which prevents light from bouncing off the panels. This further increases the light absorption from each panel.
To finish it off, the panels are placed so closely together that they almost look like a solar sheet rather than a collection of solar panels. This means that there are no grid lines taking up precious space on your roof. And thanks to SunPower's proprietary InvisiMount frame, you won't have to look at any unsightly rails once the panels are on the roof; it just looks like a sleek selection of panels are laying directly on the roof.
Since fewer roofs are needed to hold solar panels, smaller roofs can utilize these strong solar benefits as well.
If you have a bigger roof, you have a greater range of choices – you can target certain areas on your roof that you know gets more sunlight than other areas, for example.
All of these design choices result in these uniquely high-performance solar panels. And since they are backed by a rather absurd 25-year warranty (which we'll talk about more later), you know can rest easy knowing that your solar needs are taken care of.
2. SunPower Will Do All Of The Work For You – A Complete Start-To-Finish Installation System
Now, we'll be the first to say that installation systems are fairly common among solar companies. But these installation systems usually involve some effort on the homeowner's part. Sometimes, this effort is significant.
Some common responsibilities that homeowners might be on the hook for include:
Ordering and shipping the parts to their home.
Estimating your solar electricity needs – and by extension, how many solar panels you might need.
Working with a solar installer to determine the best place to install your panels.
Working with your local utility company to ensure that your solar installation is up to code.
If you prefer to get involved in the solar installation process, then more power to you! But many people don't have the time nor the energy to cooperate with a variety of people and companies in order to ensure a proper installation.
SunPower's answer? They will take care of the entire installation process.
This is called the SunPower Equinox System, an all-in-one home installation service.
When you choose SunPower, you choose their installation service as well. They are a highly qualified team of solar professionals who aim to make the installation process as seamless as possible. Solar doesn't have to be a complicated process with a strong team dedicated to you and your home.
Solar Equinox System includes:
Shipping
Installation of the solar panels
Installation of the solar storage system
Installation of new parts
Removal of defective parts
Access to the SunPower app for smarter solar monitoring and savings
A 25-year warranty (10-year warranty for monitoring technology)
If you really wanted to, you could get their Equinox system, go on vacation, and come back to a home outfitted with some of the best solar panels in the industry. Your input would not be necessary, which is relieving for people who have neither the time nor desire to follow the installation process.
Of course, you can still be there and provide input every step of the way, if you so choose. The solar installation team is just as happy to work with you as they are to work on their own.
You have the flexibility to choose your level of involvement.
3. The 25-Year Warranty From SunPower Is Amazing
This warranty is crazy – in a good way. It speaks of SunPower's overwhelming confidence in not only their solar panels but also their entire system.
This is because the 25-year warranty covers their entire SunPower Equinox system. This means that the warranty covers each solar panel, the mounts, and the solar storage system.
If any of them malfunction, break or underperform, then SunPower will fix or replace any defective parts at no additional cost.
Conventional solar panel warranties are often laced with little "gotchas" that either prevent the warranty from covering an issue or require the customer to pay for something in order to use the warranty.
Examples of these warranty issues include:
Paying for packaging and shipping for defective materials.
Requiring the original receipt for proof of purchase.
Paying for panels damaged by rust (which is often not covered).
The warranty coverage sucking in general (can't/won't fix a problem even when used).
SunPower, on the other hand, covers:
Labor, part, and all shipping costs.
Not needing proof of receipt.
Rust damage, including rust caused by seaside installation.
The entire system (issues with the mount and/or solar storage system are covered).
People often complain about how solar companies don't seem to care about their customers once they've installed their solar panels. This is especially the case with solar panel maintenance and repair, as many solar companies leave it up to their customers to figure out. This can be a costly endeavor as homeowners now have to fix their solar system, which is losing money from not working and costing them money to repair.
That's a double-ouch to the wallet.
So to go from that to a solar company that pledges to cover almost any issue with their entire system for 25 whole years is a huge leap, one that your wallet will definitely thank you for.
And for 10 of those 25 years, your monitoring technology is covered. This is to make sure that everything is working as it should. So even if you miss something or don't find an issue that's costing you money, SunPower will be there to back you up and fix the issue.
Now that's what we call world-class customer service.
4. The SunPower SunVault Storage System Provides Flexibility When You Need It
Solar panels are often paired with battery systems in order to get the most out of your panels' energy generation. These batteries are usually designed to store excess energy generated throughout the day for later use.
For many solar companies, this battery is treated as an accessory – something to buy in addition to your solar panels. This can be a costly addition depending on the solar panel system, as solar batteries may run from $1,000 to $9,000.
Trying to go without the battery means that any excess energy generated by your solar panels is lost, which means that you lose out on big savings.
With SunPower, you won't have to worry about any of that. As part of the Equinox system, the installation comes with SunPower's SunVault Storage System – a comprehensive solar battery system.
We say "solar battery system" for a reason. As part of the SunVault Storage System, you get a powerful solar battery, intelligent energy monitoring technology, and access to the SunPower app.
– The Solar Battery
The amount of power that SunPower's solar battery can hold is dependent on how much energy is generated throughout the day. The higher the kW your system is, the more energy that can be stored.
For example, a SunPower 5kW solar panel system (which is about 15 to 20 solar panels on average) with 1 SunVault solar battery can power all of the following for 25 hours during a power outage:
Your fridge
Your television(s)
Your computer(s)
Your dryer
Your stove
Your lights
Your appliances that need water (i.e. sink, washer, shower, etc.)
You saw that correctly. All of these common energy-using household items can be used for over a day without needing electricity from a power grid. That means you can continue your day without dealing with the hassle that power outages bring.
You are also protected in areas that experience rolling blackouts. The SunVault Storage System aims to make your power usage experience as cost-effective and disruption-free as possible.
Of course, these numbers change depending on your system. Large solar system sizes will allow the battery to hold more energy. If you plan on charging an electric car, then expect your battery to run out of juice faster.
And if you ever want or need to hold more energy, you can always invest in two batteries instead of just one. You'll get roughly double the amount of backup time by adding an extra battery.
– The Intelligent Monitoring Technology and the SunPower App
After installing a solar battery, many solar companies will leave it to you to figure out how to best use this battery. Once they have your money, customer service tends to take a dive.
But as you might have guessed, SunPower aims to do things differently. And their response is to give you access to their proprietary monitoring technology, which can be controlled online or through the SunPower app.
Why is this important? Because the technology will keep tabs on every part of your solar panel system. If something breaks or underperforms, the technology will let you know and expedite the fix/replacement procedure. That way you aren't left wondering how well your solar panels are operating, or worse, if they are working at all.
You can avoid nasty surprises on your power bill without needing to check the system personally, which is great for those of us who just don't have the time or ability to break out a ladder and tediously inspect each panel.
You can also control the SunVault Storage System in the SunPower app. This allows you to set up how you want excess energy to be dispersed.
Some of the options available to you include:
Saving the energy to be used during high-cost energy hours (peak times)
Monitoring your power preferences and making wise financial decisions
Ensuring seamless transfers between grid energy and battery power
Sending the energy back to the local power company and earning a credit toward future energy bills
For us, the best part is that you can do all of this through a simple app on your phone.
You don't even need to be home in order to ensure that your solar panel system is always working towards your goals, whether that be generating clean energy or saving you money on your utility bill.
5. SunPower Offers Multiple Payment Options, Including $0 Down
Many people believe that solar panels are simply too expensive. Even if they wanted solar panels, there is no way they would be able to afford them, right?
Well, that's not true at all. Many solar companies offer a variety of ways to make solar much more affordable, and SunPower is no exception.
There are three main ways to purchase solar panels:
Upfront purchase
Loan
Lease
Let's briefly talk about each method to see which option is right for you.
– Upfront Purchase
This is the simplest way to purchase a solar panel system: just buy it outright.
If you can stomach the cost ($16,000 for a 5kW system depending on location and equipment), then this is the way to go. You'll recoup your costs faster and turn your investment into a money-saving machine.
Unfortunately, many people just don't have a few thousand dollars lying around. But this doesn't mean that they are just out of luck. There are other options designed to make solar panels affordable for everyone.
Best Cost Savings, Worst Affordability
– Loan
This is the most common and affordable route for homeowners. Getting a loan is a great way to own a solar panel system without raising all of the money for it first.
There are a few different avenues by which you can use a loan to buy a solar panel system.
You can use a home equity loan, which may be tax-deductible and save you even more money. This involves you borrowing against your home equity though, which may delay your pay-off date for your house due to the added payments. The benefits are that you get lower interest rates and a longer minimum pay-off date (typically 10 years). We recommend using this option only after careful consideration.
There is also the classic solar loan, which is when you finance your solar panel system through the solar company. Sometimes solar companies offer incentives to finance through them, such as SunPower's $0 Down policy.
As the name suggests, this means that you can purchase and install the SunPower Equinox system without putting any money down – assuming you qualify. You can pay as low as $79/month with $0 – that's a pretty great deal if you can nab it.
Solar companies are also more willing to work with customers who have rockier credit scores. These loan terms tend to range anywhere from 3 to 25 years with wildly different interest rates. If you want the lowest monthly payment, this is usually the option to go with.
Finally, you can go with a personal loan. The lowest score we've seen qualify for this type of loan was 560, but many lenders set the minimum at 600 or even 660. With a good score (720+), you can score a low-interest rate and a high loan amount; the loan amounts go as low as $1K and as high as $100K! The interest rates we found spanned from 4.49% to a staggering 35.89%.
You should definitely try to prequalify for a personal loan if you have a strong score, as these rates and terms tend to be better compared to solar loans – not counting their incentives.
Good Cost Savings, Best Affordability
– Lease
Solar leases are another option for making a solar panel system affordable. Instead of purchasing the solar panels outright through cash or a loan, you are essentially renting the solar panels with a monthly payment.
They are similar to a loan but also very distinct because:
Loan = purchased with borrowed money and own the solar panel system
Lease = borrowing the panels from the solar company and paying a monthly rate to do so
So if both options involve paying a monthly bill, why would people choose a solar lease (renting) over a solar loan (owning)?
To be honest, there aren't many reasons to go for a solar lease, which in itself is a big reason why they are on a steady decline while solar loans are more favored.
Solar leases have one big benefit – a strong warranty and repair policy. Since the panels still belong to the solar panel company, it is their responsibility to fix and maintain the panels. With most solar companies, you are on your own if you decide to go with the solar loan – they already have your money, after all.
But this isn't an issue with SunPower anyways, as their warranties extend to cash purchases and solar loans too.
Here is a list of issues we have with solar leases compared to solar loans:
You don't save more money long term.
You don't own the solar panel system.
You don't qualify for the federal tax credit (the solar panel company takes it instead).
It's harder to sell your home (you have to transfer the lease to the next homeowner, which may complicate your search for a buyer).
The monthly payments may increase (interest rates tend to rise with solar leases).
Therefore, we only recommend solar leases if you don't qualify for tax credits or a solar loan. Even with a solar lease, you can save some money compared to no solar at all.
Decent Cost Savings, Decent Affordability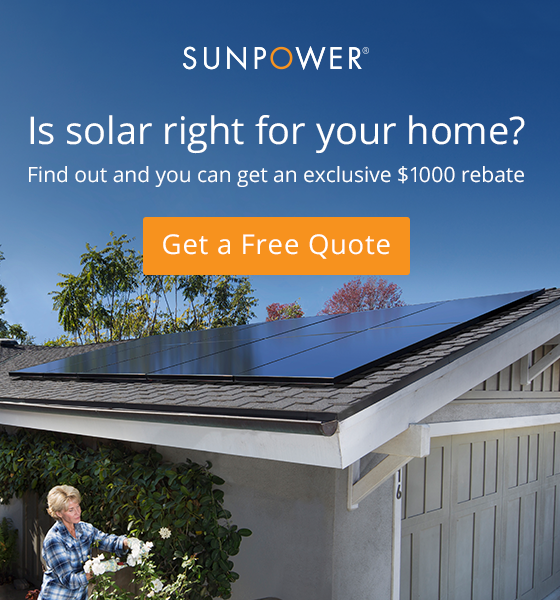 6. Eco-Friendly Manufacturing And Disposal Of SunPower Solar Panels
One of the biggest complaints about solar panels and their eco-impact is that they are terrible for the environment once it's time to dispose of them. Many old solar panels are made with chemicals, metals, and elements that can leach toxins into the soil. Additionally, often valuable resources contained in the panels are wasted as they sit in a landfill.
SunPower is eco-focused and reflects that in how they handle the manufacturing and disposal of its solar panel system.
First, SunPower only partners with manufacturing companies that commit to clean practices like water conservation.
"With our sustainability focus shifting to our downstream business of sales, storage innovation, and energy services, SunPower procures solar panels from leading manufacturers who commit to using water responsibly."

Sunpower.com
SunPower also partners with specialized recyclers who can extract raw materials and precious metals from old solar panels. And before they even ship it off to the recyclers, they test, reuse, and sell equipment that meets their working expectations.
And when it even comes to shipping these solar panels, SunPower makes sure to minimize freight mileage by sticking with direct shipments (which are also faster).
This in turn helps lower the carbon footprint of said transportation.
"SunPower has established environmentally responsible disposal of waste as a core objective of our business. To this end, we maintain a national network of innovative, approved recyclers for our electrical, mechanical, and solar panel waste streams. We test, reuse, or resell components that have remaining life, and ship unusable inventory to Responsible Recycling (R2:2013)—specialized recyclers with robust downstream partners for the circular use of extracted raw materials and precious metal recovery (e.g. glass, aluminum, etc.)."

Sunpower.com
By taking these important eco-friendly steps, SunPower shows that they lead the way in terms of sustainability.
Their commitment to the environment as an industry leader speaks volumes, and we hope that they continue to improve their ability to contribute to a greener, better world.
7. SunPower Offers A Free Consultation And Quote
Interested in solar panels but not sure if they are right for you?
We totally get it. Buying solar panels is a big deal, especially financially. Doing your due diligence is important in making sure that you get the best deals and the best rates.
But part of doing that is relying on experts that can help you out. That's where SunPower comes in.
SunPower offers a free quote and consultation on their Equinox system. You don't have to pay a penny.
All you have to do is set up an appointment online or over the phone. They will send over a solar installation agent who will go over everything you could possibly want to know, including:
Which panels are right for you.
How many panels you will need based on your energy needs.
Where to best place the solar panels for maximum light absorption.
How to get the most savings out of your panels.
And so much more.
The best part? SunPower will not try to coerce you into buying their panels. They know that their panels are the real deal, so they let the numbers speak for themselves. What the agent is most interested in is getting you the best bang for your buck.
And if you aren't interested, there is no pressure to continue with the installation process. No sleazy sales tactics, no upselling, none of that garbage. That's probably our favorite part – who wants to deal with the solar equivalent of a bad car salesman?
We must warn you about something important, though. The federal tax credit for solar panels is decreasing from 26% to 22% once 2023 arrives. Once 2024 arrives, it'll be wiped out completely for residential spaces, meaning that homeowners will have to pay for solar panels at full price.
Considering that the solar installation process can take a while, we recommend waiting no later than 2022 if you plan to install solar panels. It doesn't have to be through SunPower, but we highly recommend it.
CONS
Of course, we can't just talk about the good. We also need to address SunPower's biggest problem for consumers.
CONS
1. The SunPower Equinox System is expensive.
Let's talk about the elephant in the room.
1. SunPower's Solar Panels Are Expensive
We'll be honest. We struggled to find any substantial cons regarding SunPower. Outside of a few disgruntled customers, people seem to love these solar panels.
But the #1 complaint that prospective customers have is about the price.
Now, SunPower does NOT tell you how much their solar panels are or how much it takes to install the Equinox system. In order to get a truly accurate number, you'll have to get a quote by calling their number or talking to an agent.
But we have some information to work with. Please note that the following calculations are with the federal tax credit already applied.
According to ConsumerAffairs, SunPower's solar panels cost around $3.20 and $4.50 per watt. Many homeowners report spending around $2.50 to $3.50 per watt, which is about 22% cheaper than SunPower when comparing the highs and lows respectively. Depending on the solar panels, this difference in price can jump up to 50% or even higher.
We'll give you some price comparisons to other well-known brands so that you get a better idea of where SunPower's price stands later.
And although SunPower costs more money, there is no denying that they have some of the best panels in the industry. We'd rather pay for quality panels once at a higher price than settle for cheaper panels that may cost more in the long run (repairs, maintenance, bad warranties, etc.).
How SunPower Stacks Up To Other Solar Panel Providers
SunPower isn't the only big player in the solar industry. There are many, many other solar panel companies out there and only more continue to pop up each day. With so many choices, it can be easy to become overwhelmed. Worse, a disreputable solar salesman could convince you to sign a bad deal with their lesser-known solar company. It's happened to plenty of homeowners in the past.
While not every small solar company is like that, we prefer to stick with established solar companies. The older solar companies have been through the wringer and adapted to the fairly new industry well, which is impressive when you look at all of the other solar companies that have failed (trust us, there are a lot).
It's only fair that we compare SunPower to other big solar companies to see how it truly stacks against the best. The other two solar panel companies that we'll be comparing SunPower to are LG Solar and JinkoSolar. We would have included Panasonic solar too, but they are exiting the solar panel industry in 2022.
Price
| Solar Panel Brand | Price Per Watt | Average Cost of 6kW System |
| --- | --- | --- |
| SunPower | $3.20 to $4.50 | $19,200 to $27,000 |
| LG Solar | $2.37 to $3.13 | $14,220 to $18,780 |
| JinkoSolar | $2.38 to $3.20 | $14,280 to $19,200 |
SunPower costs $3.20 to $4.50 per watt for an average cost of $19k to $27k for a 6kW system.
LG Solar costs $2.37 to $3.13 per watt for an average cost of $14k to $18k for a 6kW system.
JinkoSolar costs $2.38 to $3.20 per watt for an average cost of $14k to $19k for a 6kW system.
This is a pretty simple comparison. If we take a look at the total price for each system, we can see that SunPower is the most expensive (about $5k to $8k more expensive compared to LG Solar) while LG Solar barely scratches by as the most inexpensive option.
JinkoSolar is in the middle, but its price range is closer to LG Solar than it is to SunPower.
Winner: LG Solar
Efficiency
| Solar Panel Brand | Panel Efficiency |
| --- | --- |
| SunPower | 19.0% to 22.7% |
| LG Solar | 18.4% to 21.7% |
| JinkoSolar | 19.4% to 20.9% |
SunPower's solar panels have an efficiency rate of 19% to 22.7% depending on the panel series that you choose. The P series runs at 19% while the X and A series run at 22.7%.
LG Solar's solar panels have an efficiency rate of 18.4% to 22.1% depending on the panel series that you choose. The LG NeON 2 Black LG315N1K-V5 runs at 18.4% while the LG NeON R LG375Q1C-V5 runs at 21.7%.
JinkoSolar's solar panels have an efficiency rate of 19.0% to 21.0% depending on the panel series that you choose. EAGLE 2 runs at 19.4% while EAGLE 5 runs at 20.9%.
SunPower boasts the highest efficiency rate at 22.7%, with LG solar coming in second at 21.7% and JinkoSolar coming in third at 20.9%.
But we will keep an eye on JinkoSolar, as their latest and greatest solar innovations are pushing the efficiency rate to new heights. But until these super high-efficiency panels become available to the public, SunPower reigns supreme.
Winner: SunPower
Durability (Degradation Rate)
| Solar Panel Brand | Degradation Rate | Total Performance After 25 Years |
| --- | --- | --- |
| SunPower | 0.25% loss per year | 93.75% |
| LG Solar | 0.40% loss per year | 90.00% |
| JinkoSolar | 0.40% loss per year | 90.00% |
SunPower's degradation rate comes in at a 0.25% loss per year, leading to a performance of 93.75% after 25 years of use.
LG Solar's degradation rate comes in at a 0.4% loss per year, leading to a performance of 90.00% after 25 years of use.
JinkSolar's degradation rate also comes in at a 0.4% loss per year, leading to a performance of 90.00% after 25 years of use.
This is where SunPower's solar panels truly shine, as they retain almost 4% more performance ability compared to LG Solar and JinkoSolar. This means that SunPower will save much more money in the long run when looking at degradation loss alone.
Winner: SunPower
Warranty
| Solar Panel Brand | Warranty Length And Coverage |
| --- | --- |
| SunPower | 25 years performance warranty; 25 years product warranty |
| LG Solar | 25 years performance warranty; 25 years product warranty |
| JinkoSolar | Performance and product warranties lengths vary with panel series |
SunPower and LG Solar both offer a comprehensive 25-year warranty plan, which covers issues with the system. Both of them are very similar to each other and cover the same problems.
JinkoSolar's performance and product warranties are dependent on which solar panel you go with. Most of their panels will have a 12-year product warranty and a 25-year performance warranty. The Jinko Tiger N-Type solar panel has a 20-year product warranty and a 25-year performance warranty. As it can see, the product warranty can change, which is a bit of a headache to keep track of.
The contender for the best falls between SunPower and LG Solar. While it's really hard to pick which one is better, we have to go with SunPower by a slim margin. This is because SunPower offers a 10-year warranty on its monitoring technology as well as its Equinox system.
While LG solar covers any underperformance of their solar panels too, you have to figure this out on your own. SunPower's monitoring technology does this for you, and the technology itself is covered for a decade.
Winner: SunPower
Customer Reviews
| Solar Panel Brand | Reviews |
| --- | --- |
| SunPower | 4.8/5 stars based on 626 ratings |
| LG Solar | 4.8/5 stars based on 977 ratings |
| JinkoSolar | 4.6/5 stars based on 1512 ratings |
From solarquotes
Customers' opinions of each of these brands are very positive, which makes sense considering that each of these companies is near the top in the solar industry.
SunPower and LG Solar are very consistent, both garnering 4.8 out of 5 stars.
LG Solar commands more ratings, which lends greater confidence to their score. On the other hand, SunPower has a greater ratio of 5-star reviews compared to its 4-star reviews.
JinkoSolar falters a bit at 4.6 out of 5 stars, but their rating is still a very strong one. They command the most ratings by far, which speaks to the availability and reach of their solar panels.
For us, SunPower and LG Solar seem to be dead even while JinkoSolar comes in a respectable second place.
Winner(s): SunPower and LG Solar
Summary of Comparisons
| Solar Panel Brand | Price | Efficiency | Degradation Rate | Warranty | Reviews |
| --- | --- | --- | --- | --- | --- |
| SunPower | 3rd | 1st | 1st | 1st | 1st (tied) |
| LG Solar | 1st | 2nd | 2nd (tied) | 2nd | 1st (tied) |
| JinkoSolar | 2nd | 3rd | 2nd (tied) | 3rd | 2nd |
SunPower ranks as #1 for efficiency, degradation rate, warranty, and reviews. They rank at #3 for price.
LG Solar ranks #1 for price and reviews. They rank at #2 for efficiency, degradation rate, and warranty.
JinkoSolar ranks #2 for the price, degradation rate, and reviews. They rank #3 for efficiency and warranty.
Looking at the final placements, it's clear that SunPower is the definitive winner if you are looking for highly efficient and durable solar panels.
LG Solar is a solid option for people who don't mind less performance power for a better price.
JinkoSolar offers strong availability with bright prospects over the horizon.
But if we had to just choose one, we would still go with SunPower. Their customer care is unmatched and their panels are so good that you'll probably never even use their warranty. Do you know the old saying "you get what you pay for"?
That's exactly how we feel about SunPower. You are investing in your peace of mind, which is priceless to us.
With that said, not everyone can nor should buy solar panels that they can't afford. But if you are willing to spend a little more, you can rest easy knowing you are working with the best.
Wrap Up
With all of that said, that concludes our SunPower review. We hope that you enjoyed it and learned something new.
As always, take care! And let's continue to strive towards a greener, better world!